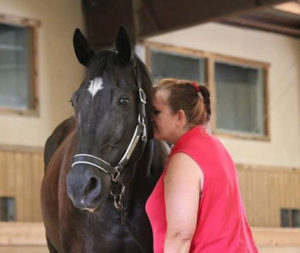 When asked the question "why did you want to become an equine massage therapist?" it would be easy to say, "oh I've loved horses all my life" or "they are such majestic creatures I want to be around them all day". The truth of the matter is I want to give back to horses as much as they have given to me.
I had hit a point in my life where the stress of corporate life was killing me and so I left a very lucrative career as a project manager/technical support engineer for a multi-million dollar software company. This decision had a profound effect in many ways too numerous to recount. I used the time after leaving my job to bond with my horse Fizz and to remember how healing my time with horses could be.  Sadly, I had to euthanize Fizz in 2014.
In the fall of 2014 I purchased Westwing "W" for short, he is a retired "A" circuit hunter who had injured himself and was retired and looking for a pleasure home. He was the EXACT opposite of what I was looking for! I wanted a short stocky low to the ground horse instead I got a 17.2 hand Black Gelding!
W is ultimately responsible for my decision to become an equine massage therapist. Shortly after I purchased him he was diagnosed with "Kissing Spine" this condition involves the overlapping of the vertebrate of the back of the horse. It is due to improper riding techniques from his former life.
I started looking for ways to help him recover and so I did what every reasonable owner would do I took to YouTube to find some answers! It was there that I found the Masterson Method and would use those techniques on W.  I would give him daily rubs on his back and hind end. What I found out was that I had a knack for finding the knots in both horses backs and human backs!
Eventually I went down the rabbit hole of alternative therapies and found Equine Massage as the place to start my journey toward helping enhance the lives of horses regardless of their discipline.
I graduated from the Bancroft School of Massage ~ Equine Program in 2018. I have gained so much knowledge and am excited to put all of the modalities I have learned to help equines in pain return to a comfortable way of going.
My future plans include more education to be able to help as many equines and their owners as possible.